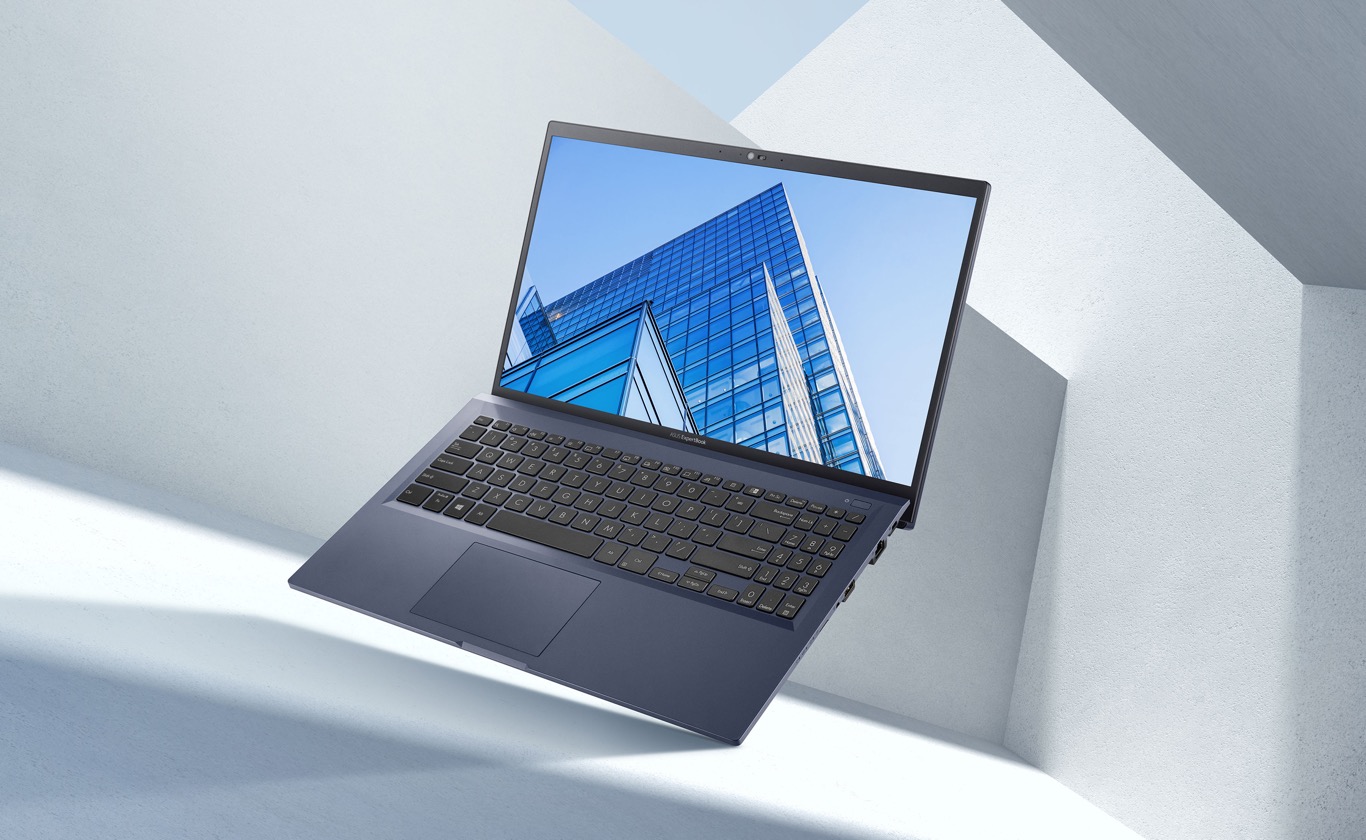 ASUS ExpertBook B1 is tailored for business, making it the smart choice for ambitious startups, established education organizations and growing firms of all sizes. It boasts high performance, military-grade durability and extensive customization to empower your business. It's also engineered to confidently handle whatever tasks come your way, with a full set of I/O ports, speedy WiFi 6 and cutting-edge AI noise-canceling technology. ExpertBook B1 streamlines your workflow to keep you productive.
Great all-around performance
Enjoy heavy-duty performance on ASUS ExpertBook B1, with an advanced 11th Gen Intel® Core™ processor and Intel IRIS XE® discrete graphics1, delivering the powerful performance you need to get the job done. Coupled with up to 48 GB memory and capacious storage, B1 is the business laptop that equips you for even the most intensive work and ensures quick access to the content you need. It's also primed for non-stop connectivity, with congestion-busting WiFi 62 and ASUS WiFi Master3 technology which help you automatically connect to the best WiFi signal, ensuring a rock-solid and stable connection wherever you are.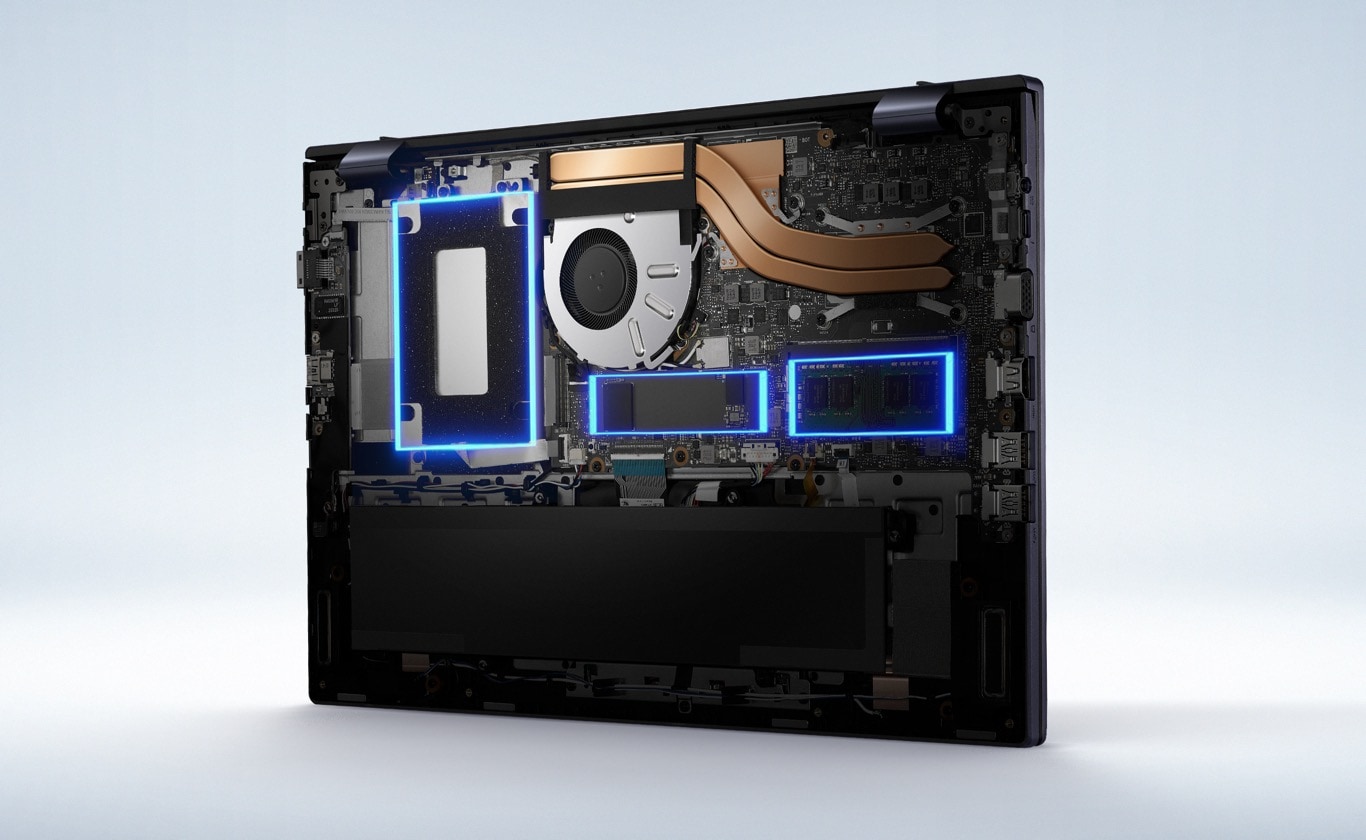 Speed and capacity, both on board
You can specify ASUS ExpertBook B1 with up to two storage devices, providing a powerful combination of ultra-fast 1 TB SSD and 2 TB HDD, perfect combination of high-speed data access and large storage capacity. Removal of a few screws on the base provides easy access to upgrade the RAM or storage devices without the need to disassemble the entire device.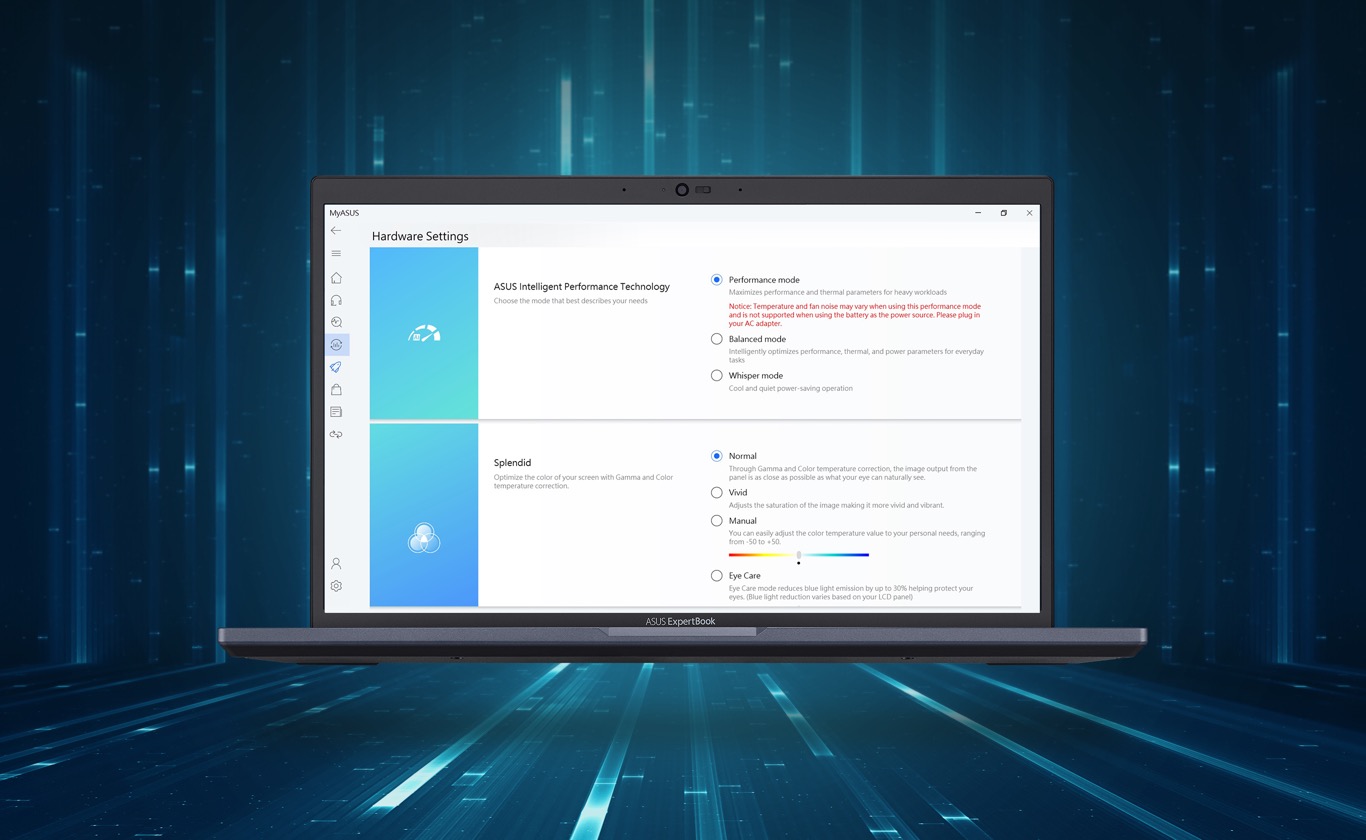 Perfectly-balanced power
ASUS ExpertBook B1 features exclusive Intelligent Performance Boost technology to achieve the best laptop performance and agility by tuning the internal thermals. ASUS-exclusive algorithms combine with up to five4 smart sensors, an aerodynamic design and an up to 90-watt5 power supply to intelligently manage CPU performance. This empowers you to switch effortlessly between Performance, Balanced or Whisper modes — enabling you to get on with business while B1 handles power and performance in any scenario.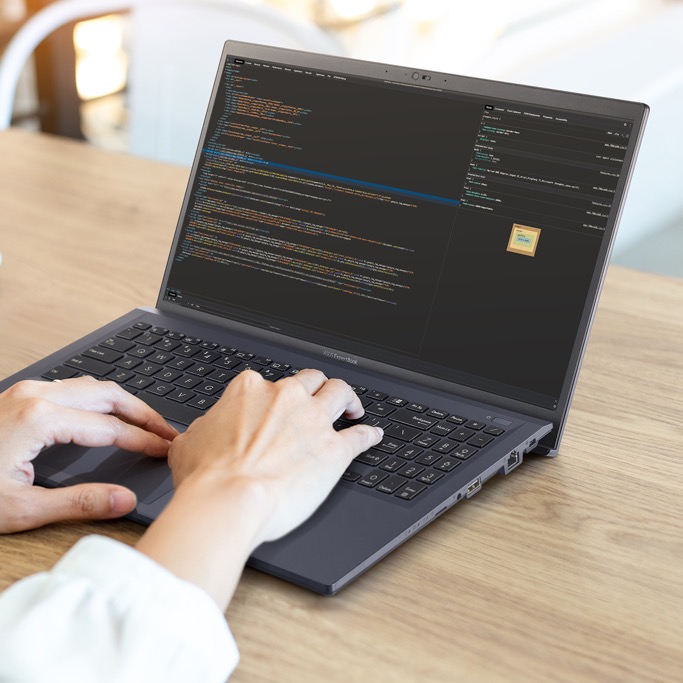 Performance Mode
Maximizes performance and thermal parameters for heavy workloads6.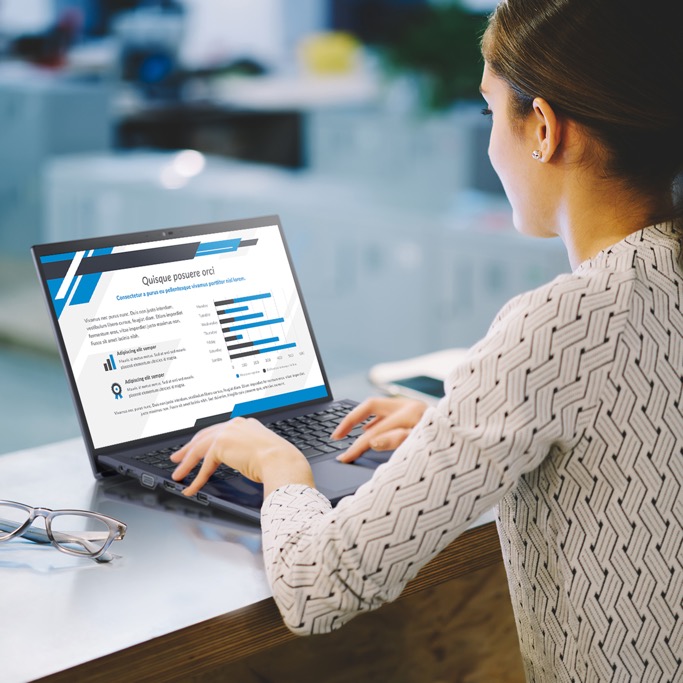 Balanced Mode
Intelligently optimizes performance, thermal, and power parameters for everyday tasks.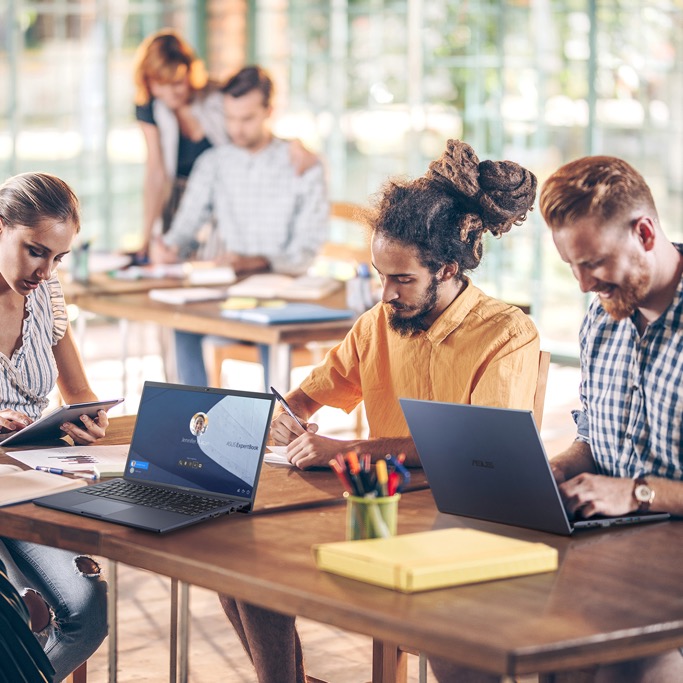 Whisper Mode
Cool and quiet power-saving operation.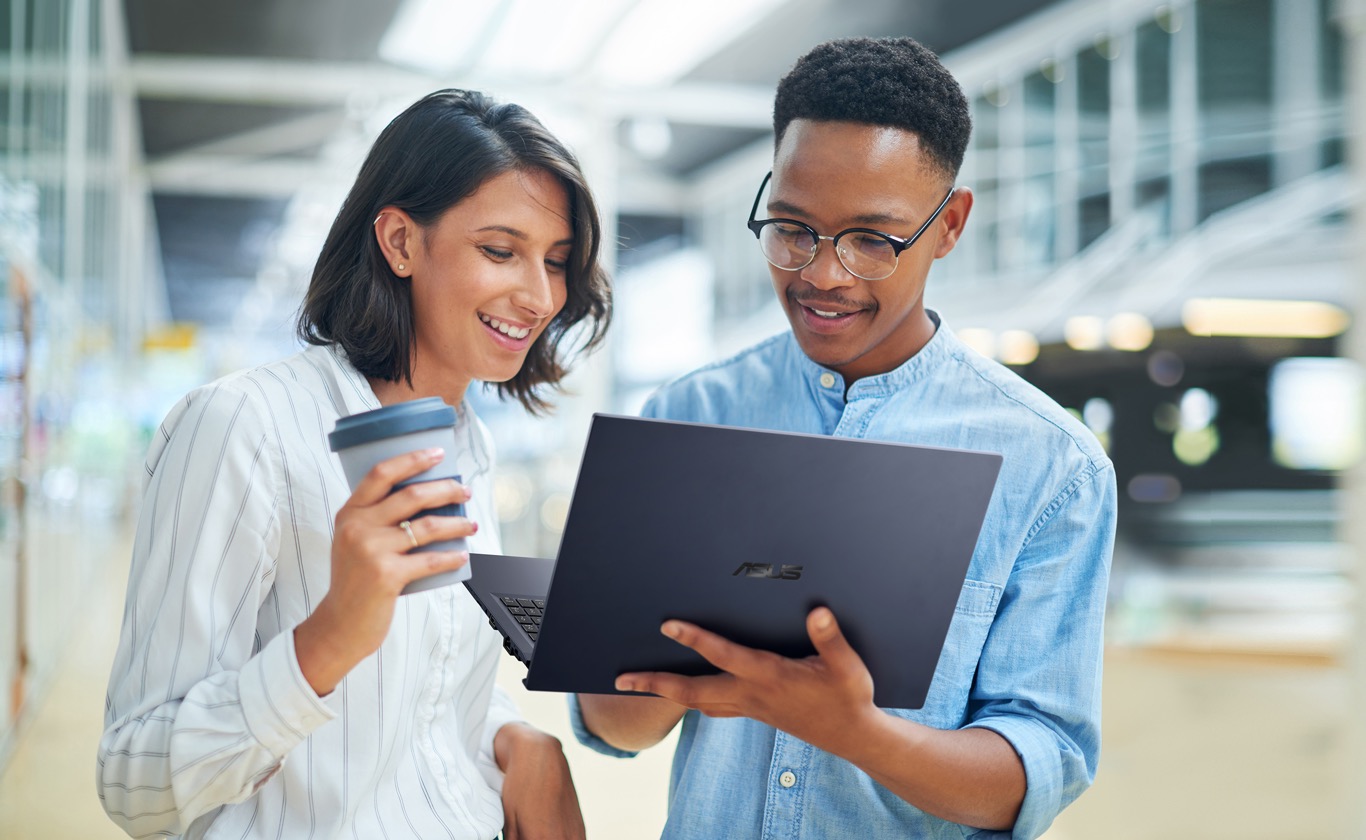 Freewheeling mobility
ASUS ExpertBook B1 is a thin and light business laptop, weighing as little as 1.73 kg7 — so it's handy to carry anywhere. Just pick up and go!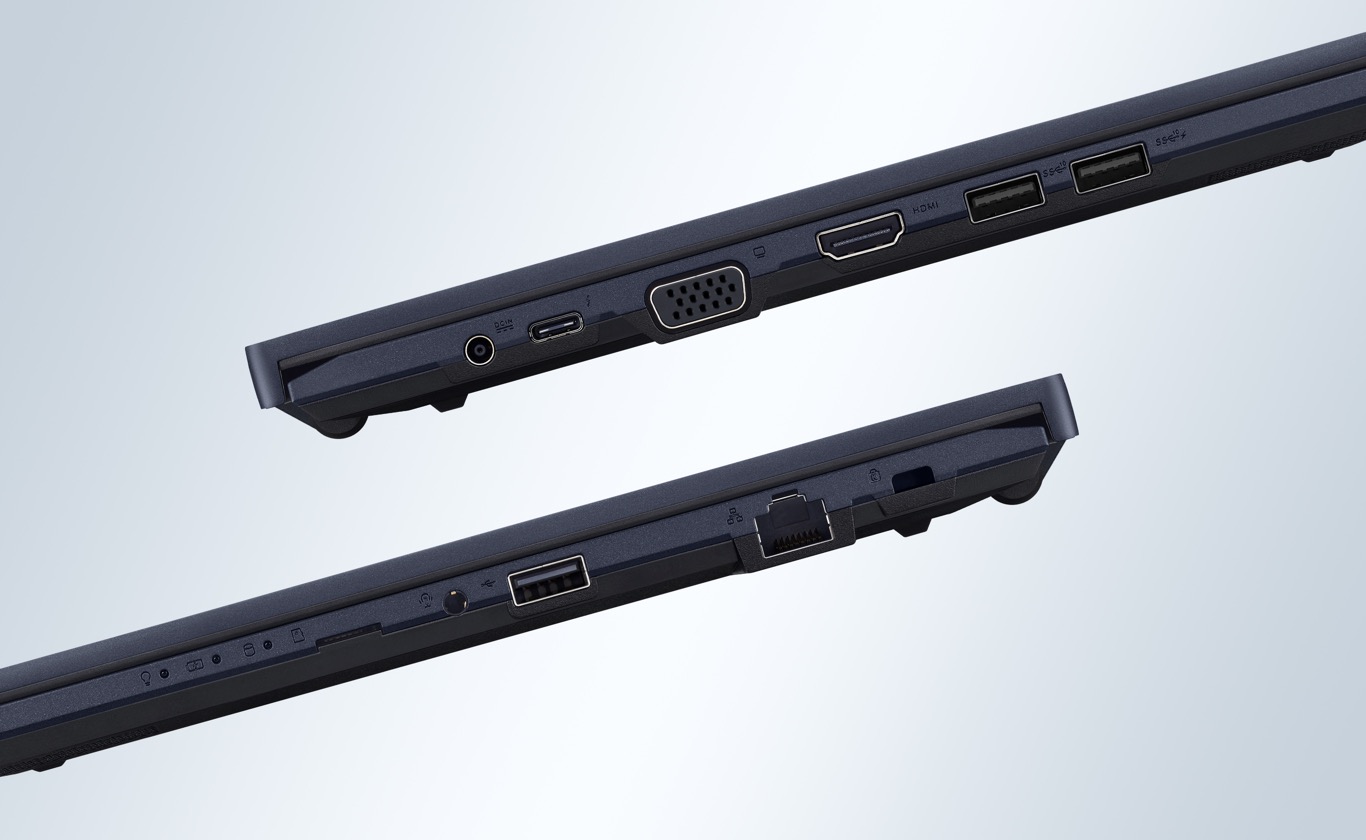 Extensive,

versatile connectivity
Connectivity is especially important in a business laptop to handle all workloads. ASUS ExpertBook B1 is packed with a comprehensive selection of I/O ports, including the industry-leading Intel® Thunderbolt™ 4 for lightning-fast, up to 40 Gbps data transfers, video output and fast-charge capability. It also has two USB 3.2 Gen 2 and a USB 2.0 Type-A, HDMI 2.0, Ethernet and a microSD card slot — so it's primed and ready for the today's remote-working paradigm. For enhanced reliability, the solidly constructed ports are test to endure over 10,000 insertions10.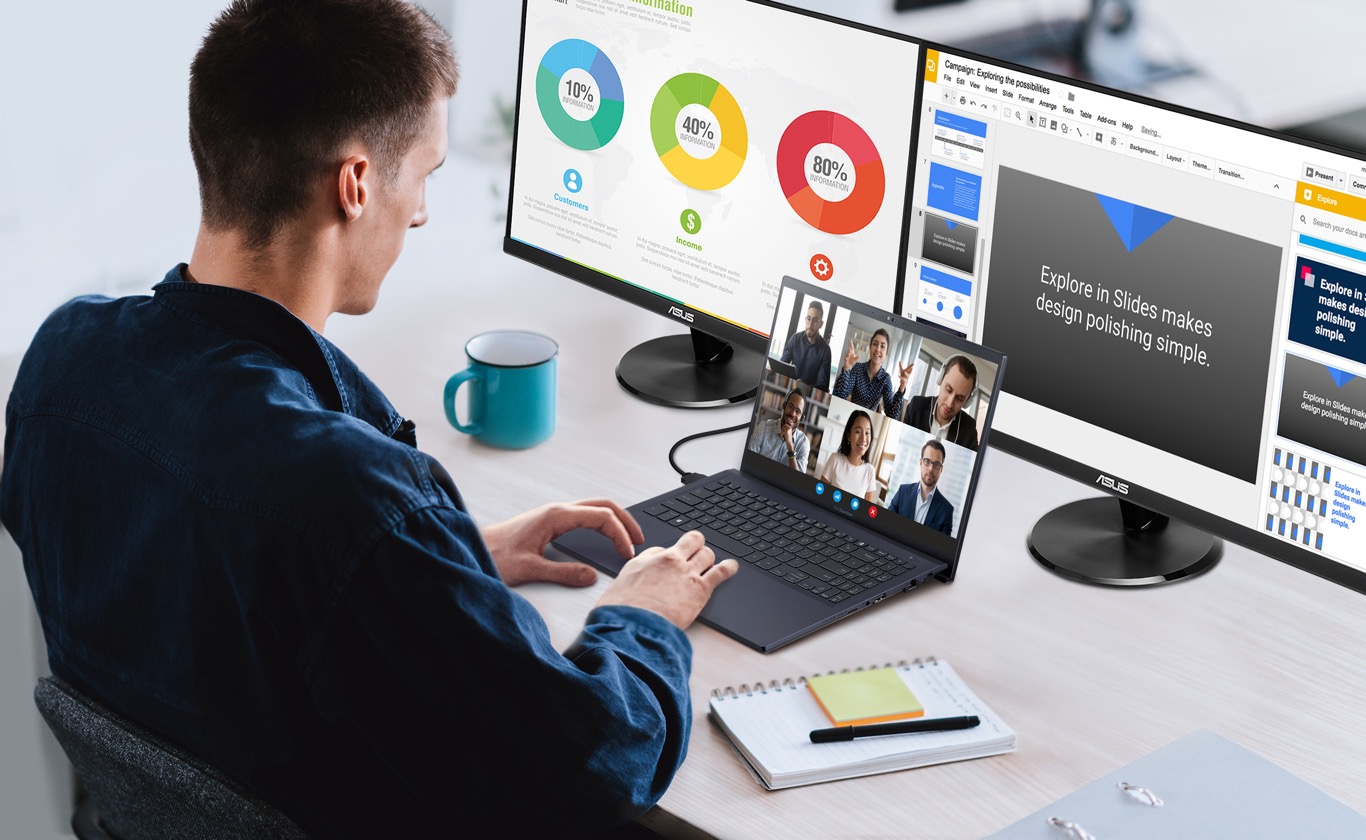 Multi-task with dual 4K displays
ASUS ExpertBook B1 helps you minimize the hassles and inconveniences of remote work. With both Thunderbolt 4 and HDMI 2.0 ports available, you're free to connect up to two external 4K UHD displays. So, for example, you could host a video conference on B1's own display while using two screens on either side to keep in view information that's important to your call. The screen is also certified by TÜV Rheinland for low blue-light emissions, proving a more comfortable viewing experience that potentially helps to protect your eyes from damage.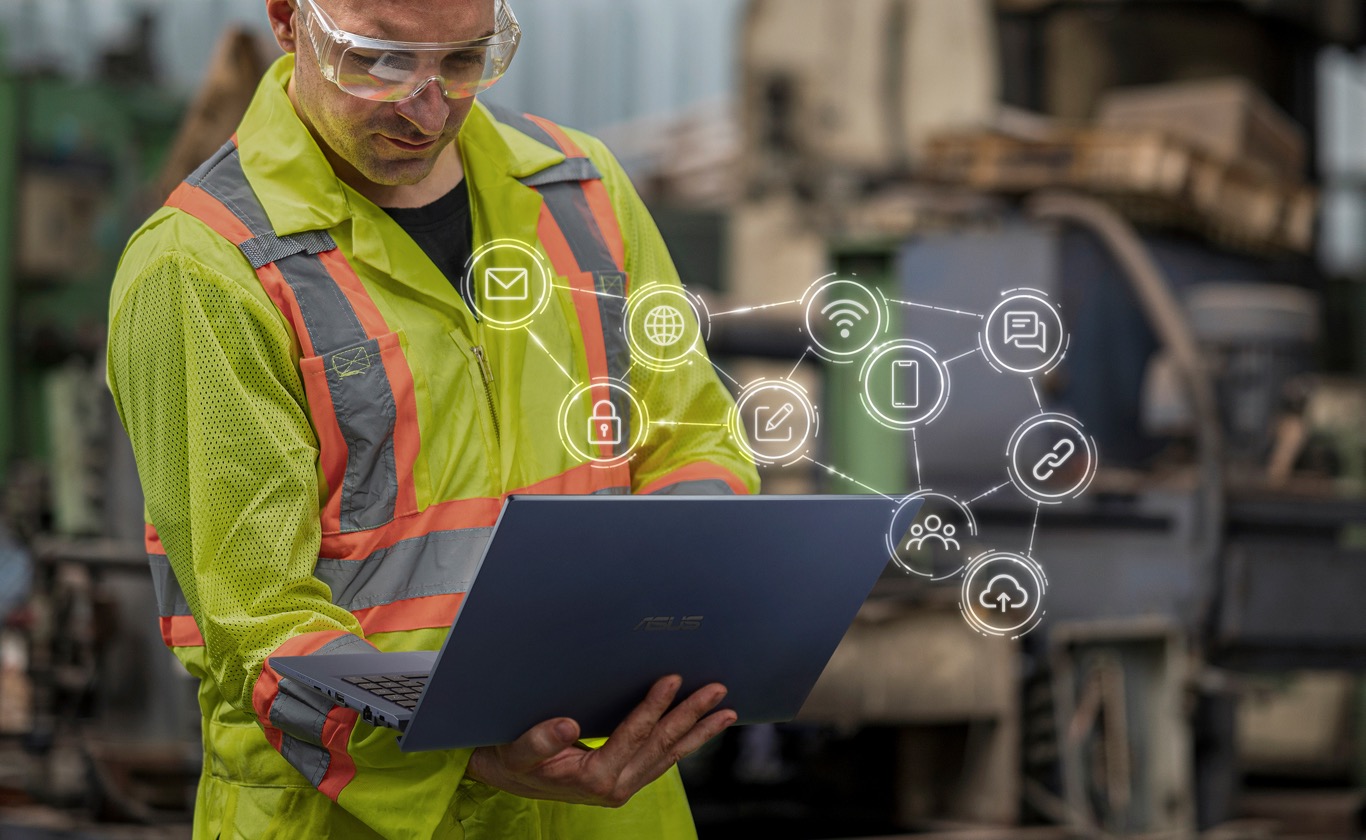 Faster, more stable connections
With the latest WiFi 6 built in, ASUS ExpertBook B1 delivers faster-than-wired speeds of up to 2.4 Gbps, letting you enjoy smooth streaming of FHD online videos and large file transfers in seconds2. There's also ASUS WiFi Master Premium technology3 to help you automatically connect to the best WiFi signal, ensuring a rock-solid and stable connection wherever you are.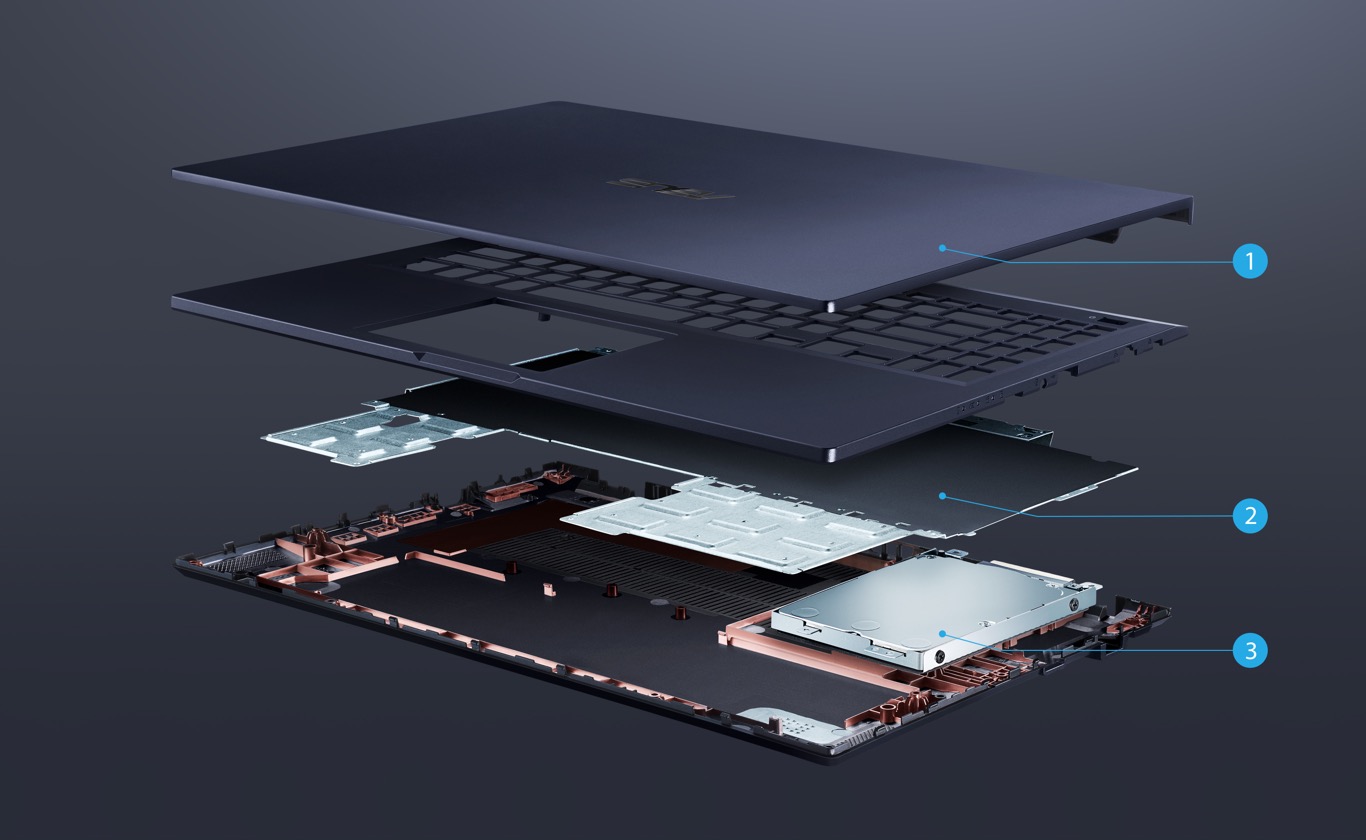 Solid construction
The chassis design incorporates features that provide extra structural rigidity to cope with the rigors of everyday use.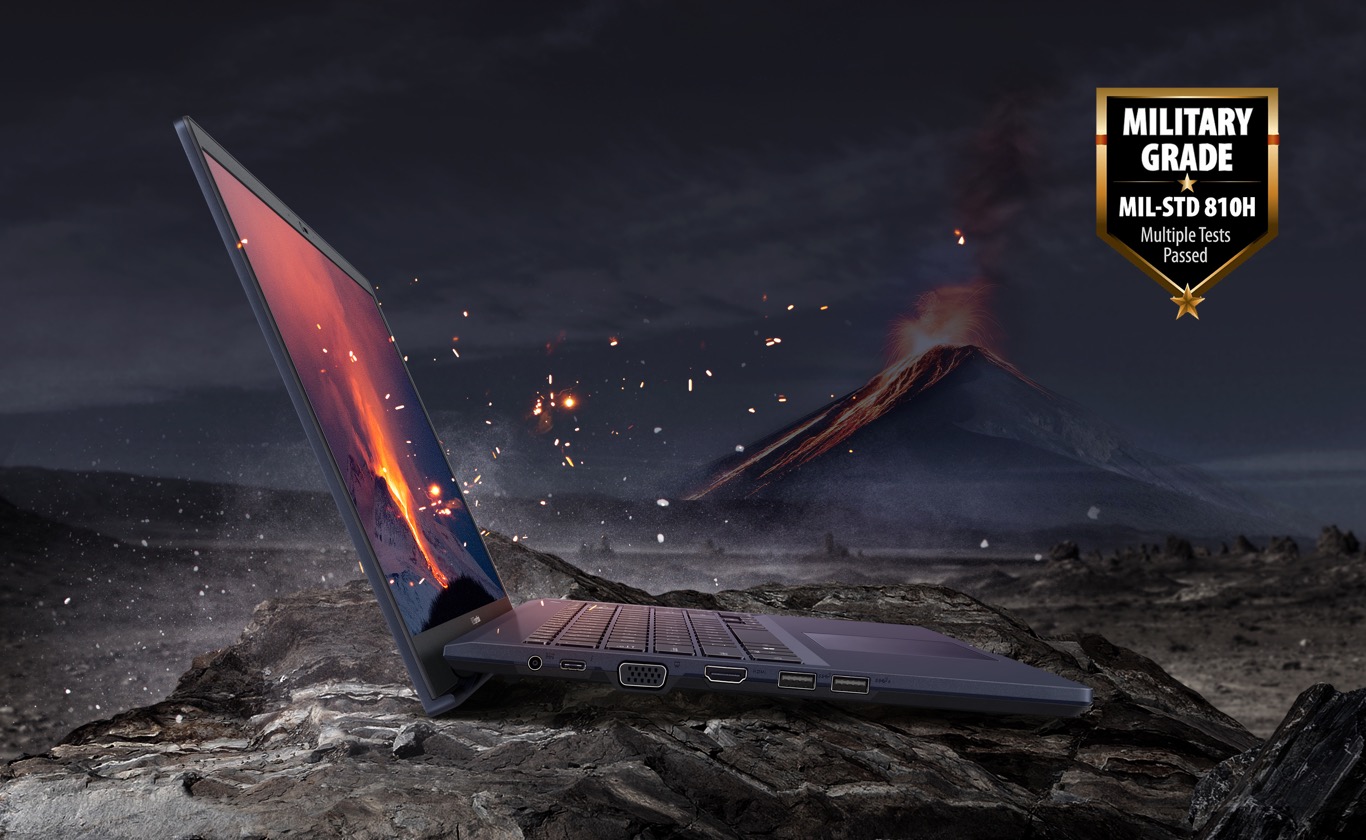 Military-grade toughness and

build quality
Life on the road is tough, so ExpertBook B1 is designed to both meet and surpass exacting industry thresholds — including the ultra-demanding MIL-STD 810H US military standard. It's built to survive every extreme, from freezing temperatures to the searing heat of desert storms, and high-speed shocks to everyday bumps. B1 also undergoes stringent in-house testing, including panel-pressure, shock and drop tests for an assurance of serious durability11.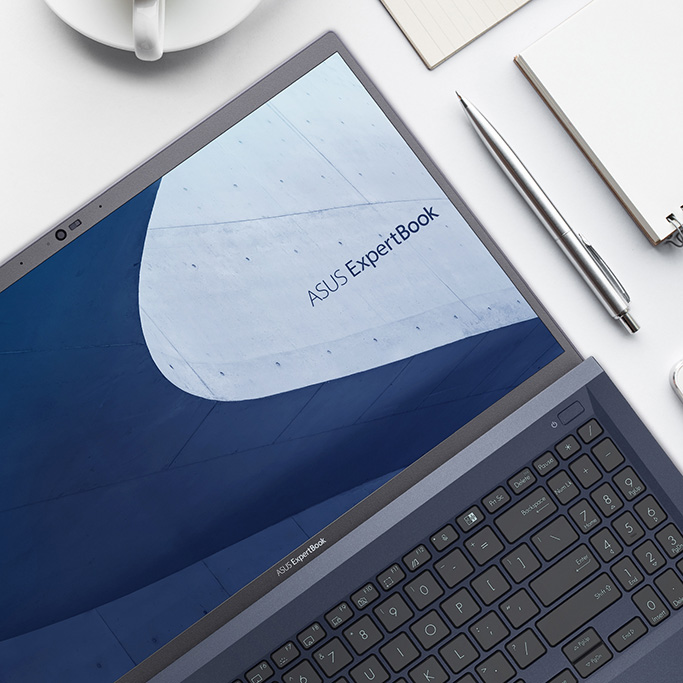 Lay-flat display
The extended 180-degree hinge is smooth, flexible and durable, and allows the display to be laid flat for fast collaboration.