MODERN AND MULTI-DEVICE
K480 is a comfortable and space-saving multi-device keyboard that brings better typing to your laptop, tablet or phone. Pair up to 3 devices and seamlessly switch typing between them. Highly durable and with long battery life, this tightly designed, multi-tasking keyboard is what everyone needs to get more done from anywhere.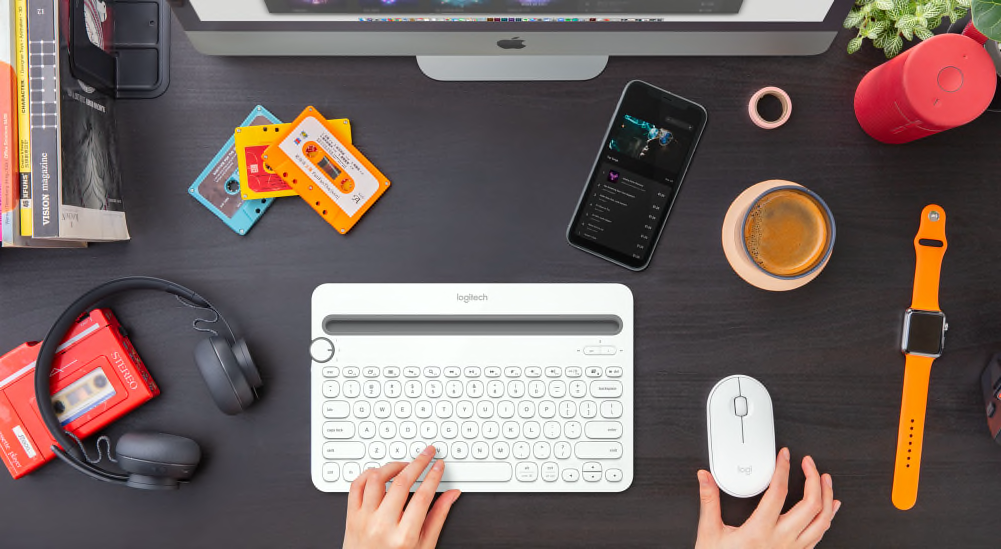 K480 Bluetooth Multi-Device Keyboard
Type on anything
Finally—a keyboard for your computer that also works with your tablet and smartphone.* This unique keyboard with integrated smartphone/tablet cradle makes it a breeze to switch between typing on three different Bluetooth devices.
EASY TO CARRY
It's thin, lightweight, and easy to take wherever you need to be. K480 with Bluetooth® wireless technology lets you type on your laptop, phone or tablet—with no wires or cables necessary, so you can get work done anywhere.
TYPE ON ANY DEVICE
Any device, any OS. The K480 connects to any Bluetooth-enabled device with external keyboard support, so you can work seamlessly with Windows®, macOS®, Chrome OS™, Android™, iOS® and iPadOS®.
DIAL AND SWITCH
K480 Multi-Device lets you pair with up to three devices and easily switch connections between them. All it takes is a turn of the dial to type, switch, and keep on typing.
VIEW AND TYPE
The built-in phone and tablet cradle keeps your screen at just the right angle so you can view while you type. Fits most phones and tablets up to 10.5 mm thick and 258 mm wide.