ASUS Vivobook 15X OLED
Wow the World with Smooth Power
Make your world shine with ASUS Vivobook 15X OLED, the feature-packed laptop with a brilliant OLED HDR display with a cinema-grade DCI-P3 gamut. Vivobook 15X OLED makes it easy to get things done, anywhere: everything about it has been improved, from its powerful 12th Gen Intel® processor to its 180° lay-flat hinge, modern colors and sleek geometric design. Make a bright new start today with Vivobook 15X OLED!
An OLED cinema in your hands
Vivobook 15X OLED's display has a best-in-class color gamut. It reproduces colors with superb real-life accuracy for professional-grade visuals, making it perfect for professional and creative work, or anyone who simply wants to enjoy the very best color fidelity. An OLED display, due to the nature of the special organic light-emitting compounds it uses, reduces harmful blue light by up to 70%3 compared to LCD displays, making it extra gentle on your eyes to reduce the risk of retinal damage.
World-leading motion clarity with 120 Hz OLED display
The world's first 120 Hz refresh rate, 0.2 ms response time OLED laptop display gives you so much more on top of the best colors and quality for any content — gaming, creation, day-to-day work and media entertainment can all benefit from the smoother-than-ever experience. In a word, it's awesome!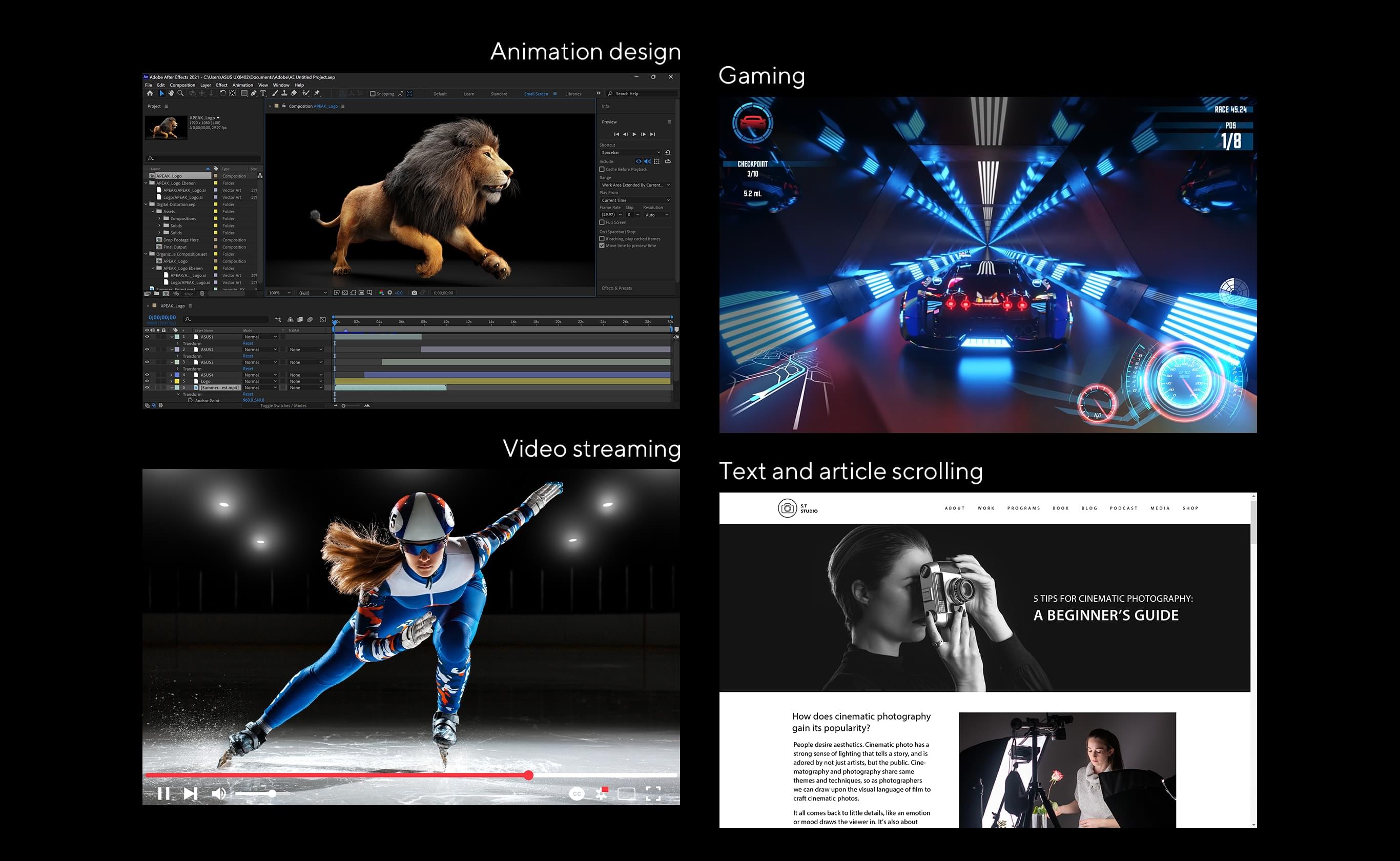 Ultimate 120 Hz / 0.2 ms for exceptional motion clarity
The new premium ASUS OLED display with 120 Hz refresh rate and 0.2 ms pixel response time is incredibly smooth and clear. In fact, both surprisingly and counter-intuitively, the 120 Hz / 0.2 ms OLED display is faster than a 165 Hz / 3 ms LCD IPS display — because it reduces ghosting to an indiscernible level. Simply put, this means even fast-moving visuals are smoother and clearer than ever.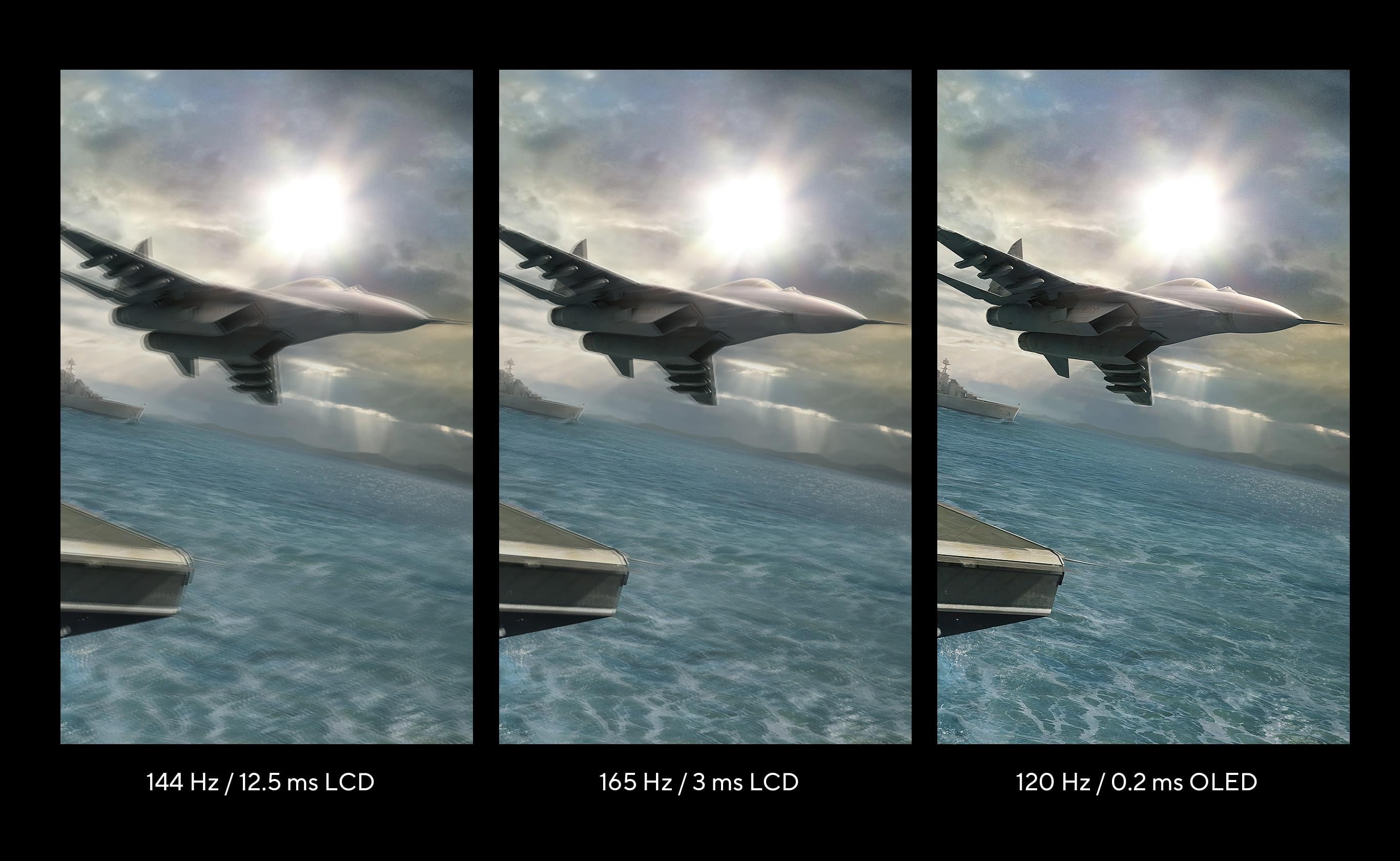 Customizable color gamut for every need
The display's color gamut can be quickly and easily switched for different tasks or preferences. On top of the ultravivid native color setting, choose sRGB for creating web content or browsing, DCI-P3 for cinema content, or Display P3 for movie-grade colors finessed to fit everyday viewing in the real world.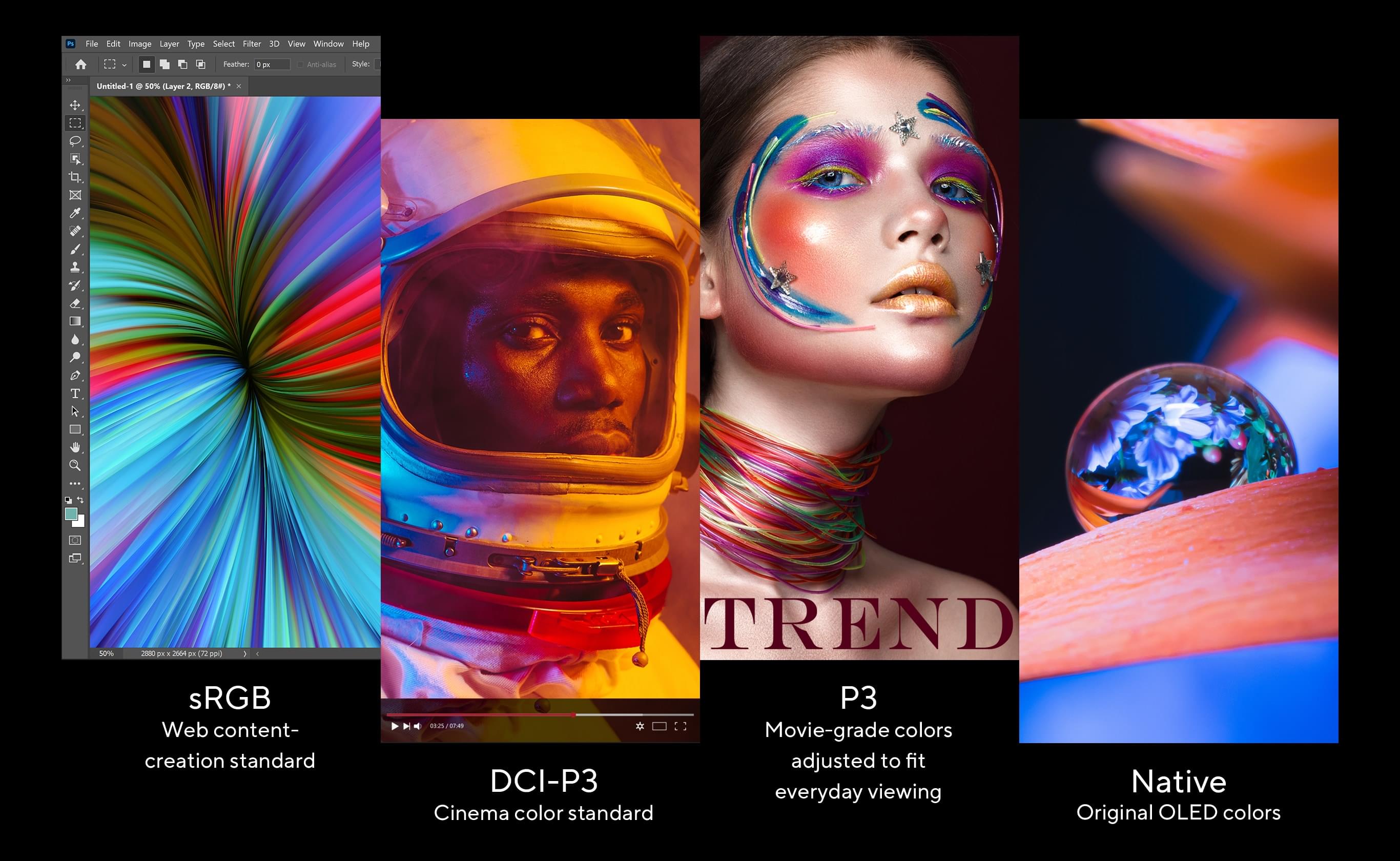 Next-level performance
Vivobook 15X OLED is your eye-catching everyday companion that's always ready to make light work of your agenda, whether it's office or personal, presentations or play. The latest 12th Gen Intel® Core™ processors boosted with 16 GB of fast memory and 512 GB of speedy SSD storage mean there's plenty of power in reserve when the going gets tough.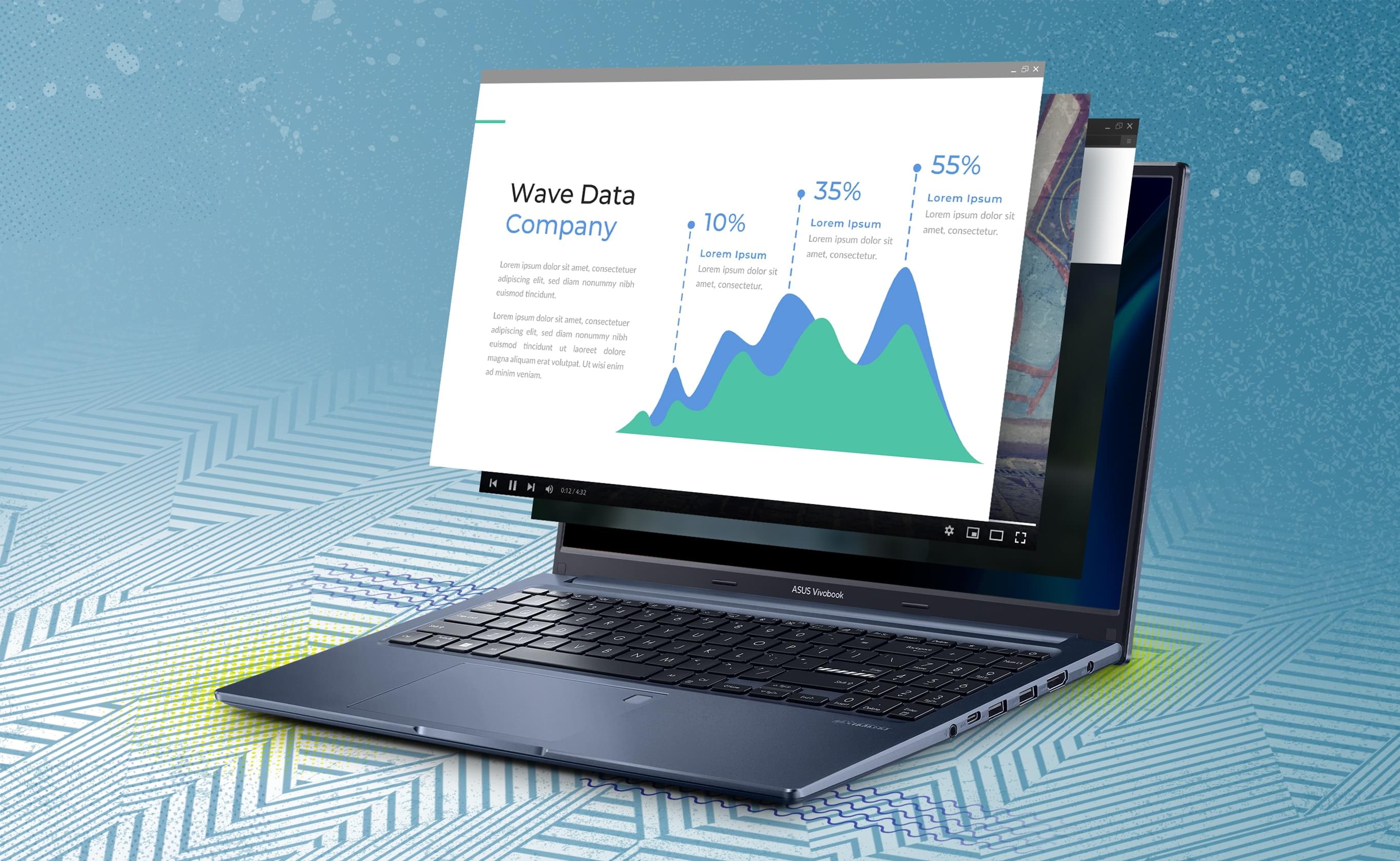 12th Gen Intel® Core™ i7 H-Series CPU
Vivobook 15X OLED delivers next-level performance from up to the latest 12th Gen Intel® Core™ i7-12700H processor to make every task easier, whether it's streaming, browsing, editing, video chatting, or just taking care of business at home. Capable of being boosted up to a TDP of 45 watts, it's the fastest performing generation to date!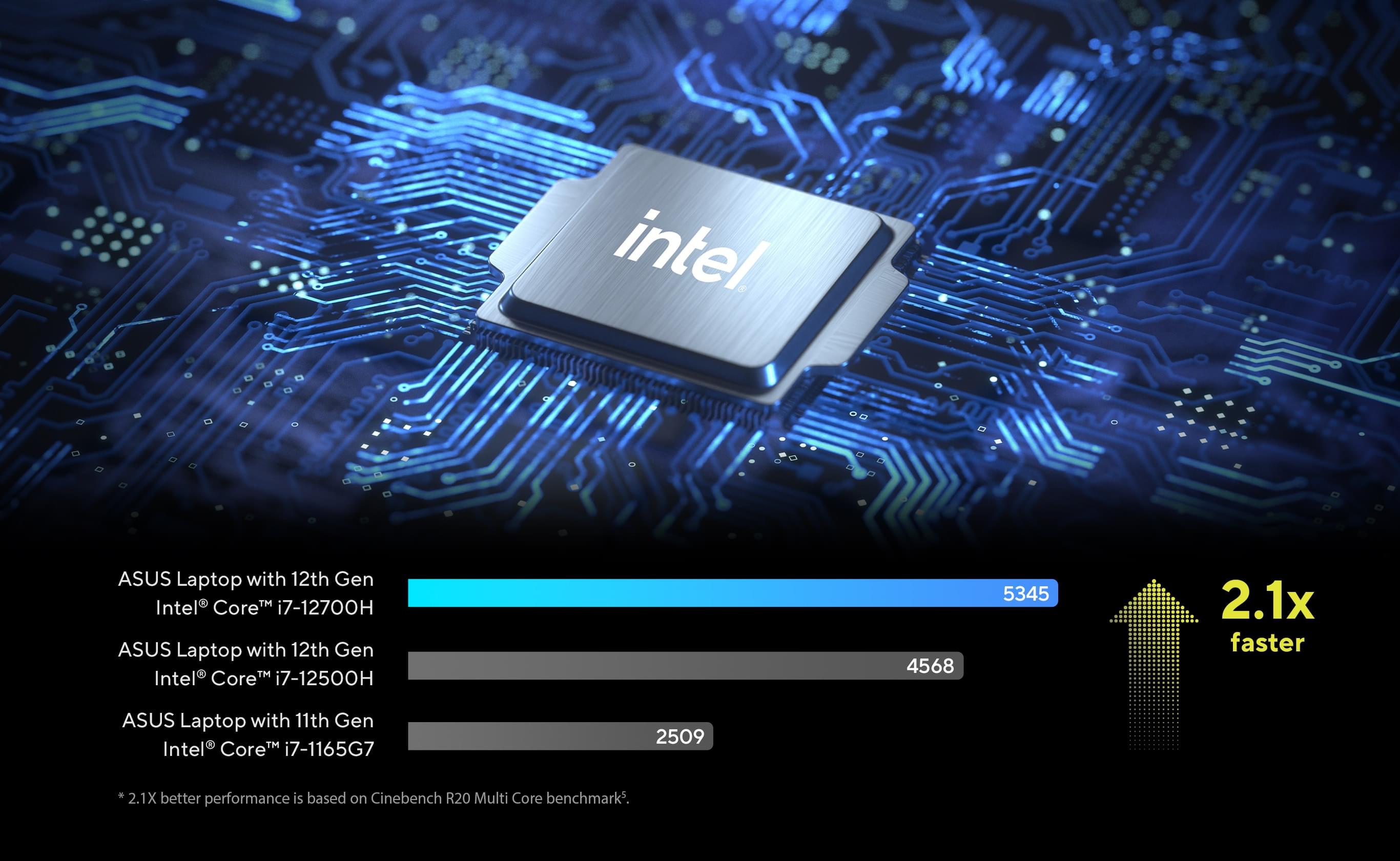 Better performance with no compromise on battery life
Thanks to long-lasting 70 watt-hour batteries, ASUS laptops with H series CPU processors offer ample battery power to keep up with your on-the-go life. Its productivity and leisure without compromises.
* Battery life is based on video playback scenario.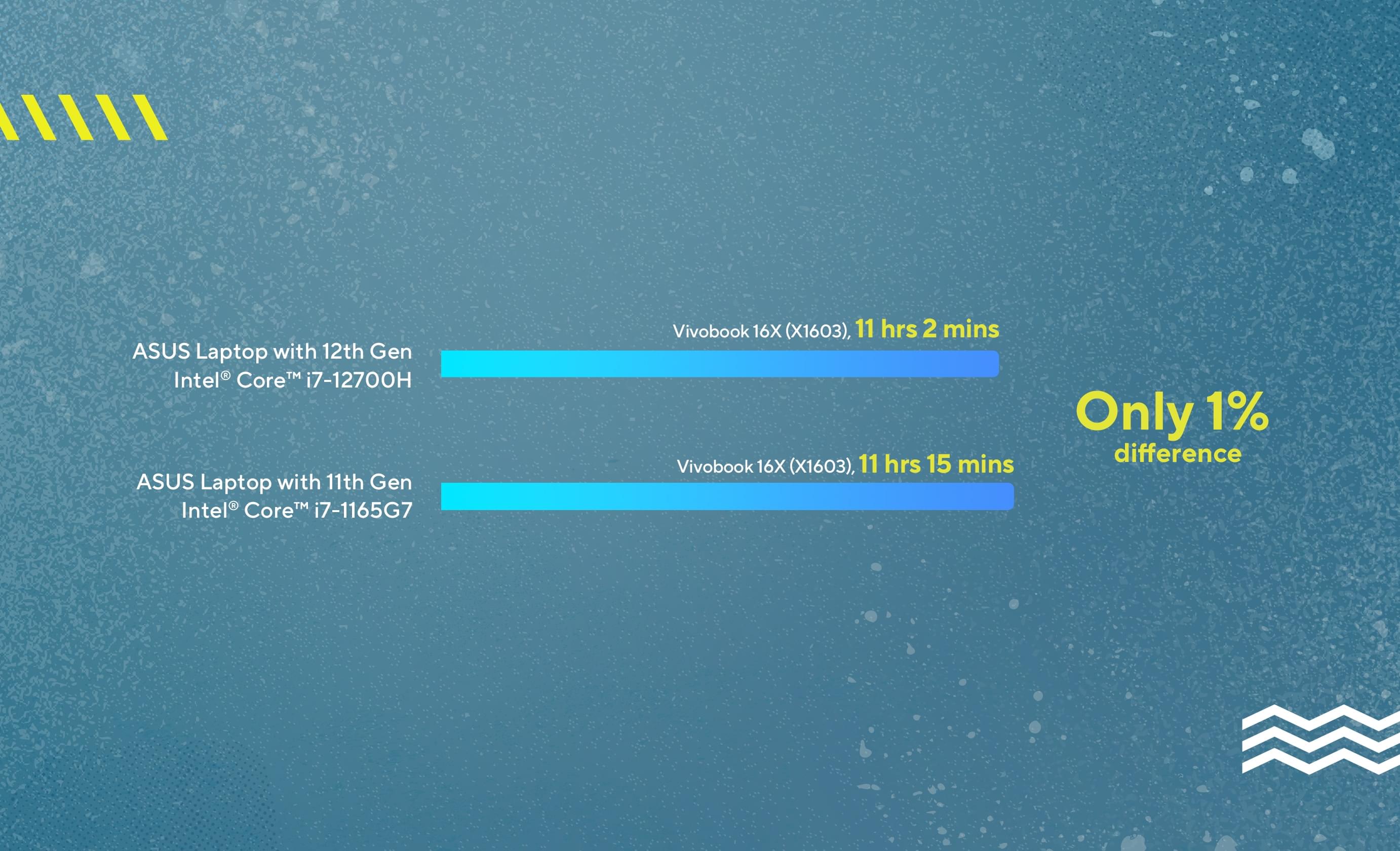 Cooler, quieter and faster!
To keep it cool in all situations, the ASUS IceCool thermal technology in Vivobook 15X OLED uses upgraded heat pipes
6
, and an IceBlade fan that efficiently accelerates heat transfer. The 87-blade fan and impeller are made of a liquid-crystal polymer that means they're lighter and thinner than ordinary fans. In addition, the fan uses a fluid-dynamics bearing that's quieter and has less vibration than an ordinary bearing. The end result is that the mighty CPU can run comfortably at a blistering 45 watts total TDP in Performance mode — with no throttling!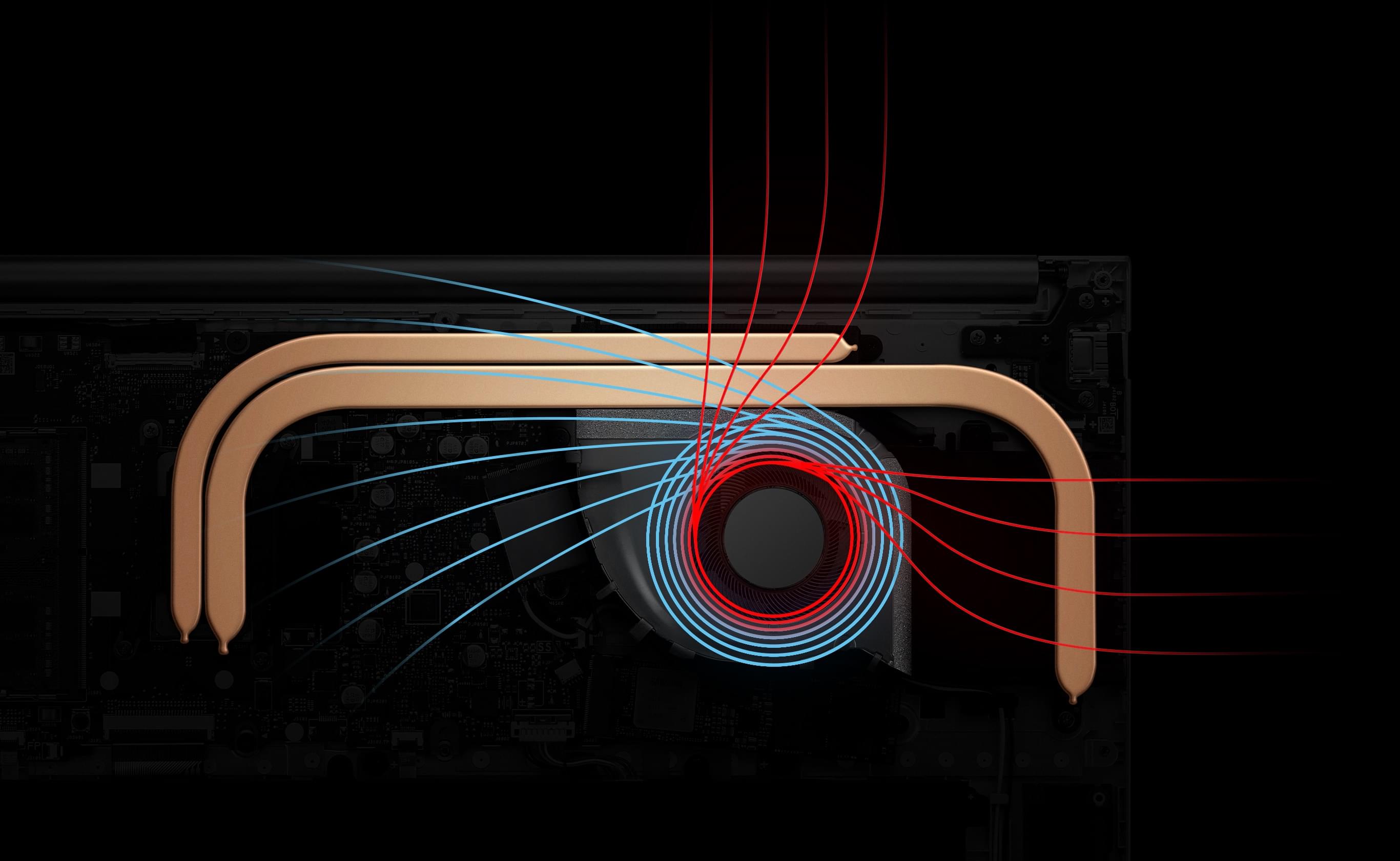 Don't be ordinary!
Vivobook 15X OLED is never ordinary, with a clean design and two eye-catching colors. Choose from charming Quiet Blue or distinguished Transparent Silver — whichever says 'that's me!' It's slim enough to pop unobtrusively into any backpack, and light enough for easy one-handed carrying.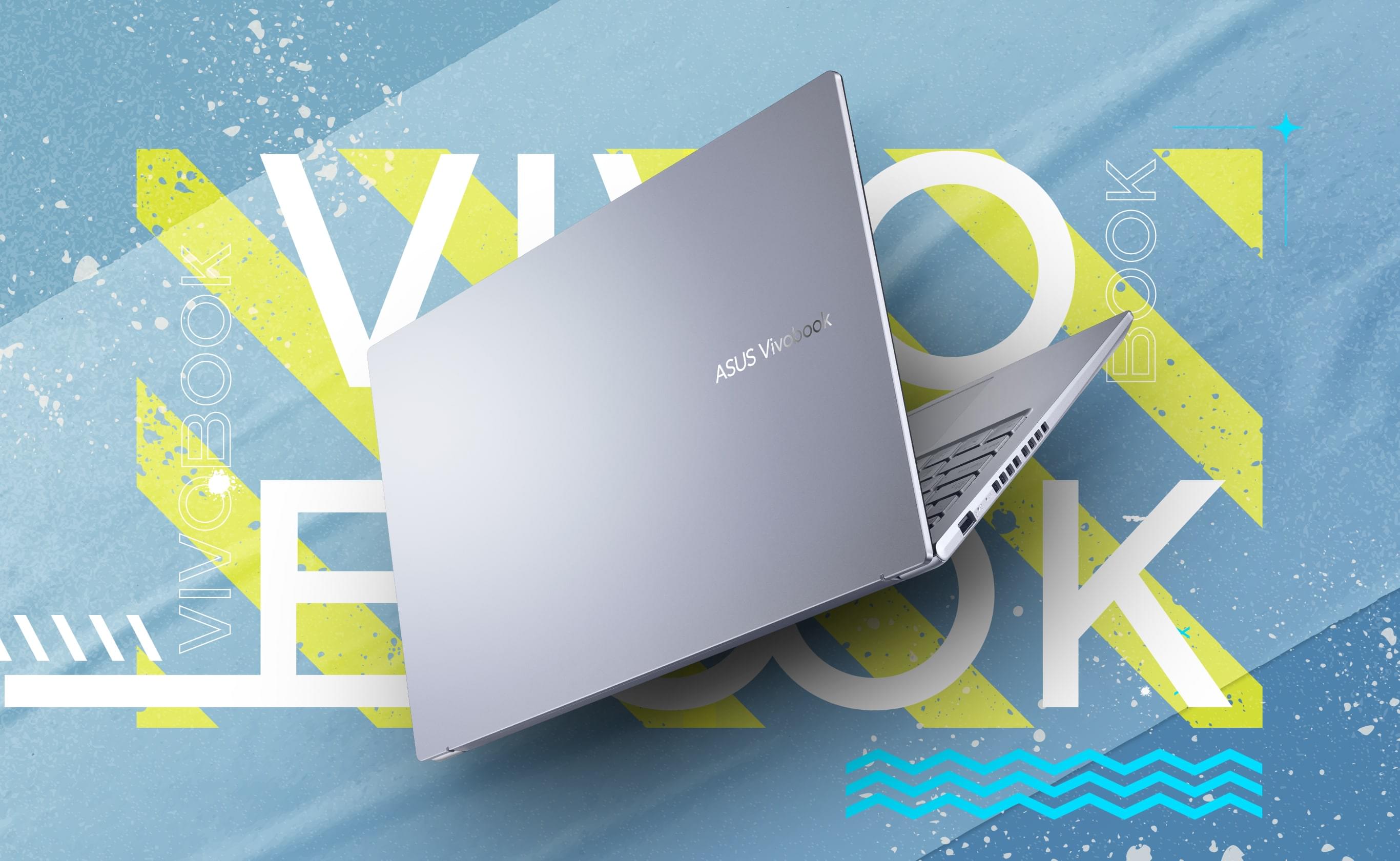 Wide open for sharing
Vivobook 15X OLED features a precision-engineered, lay-flat hinge that makes it easy to share content with others, or collaborate with a group of people around a table.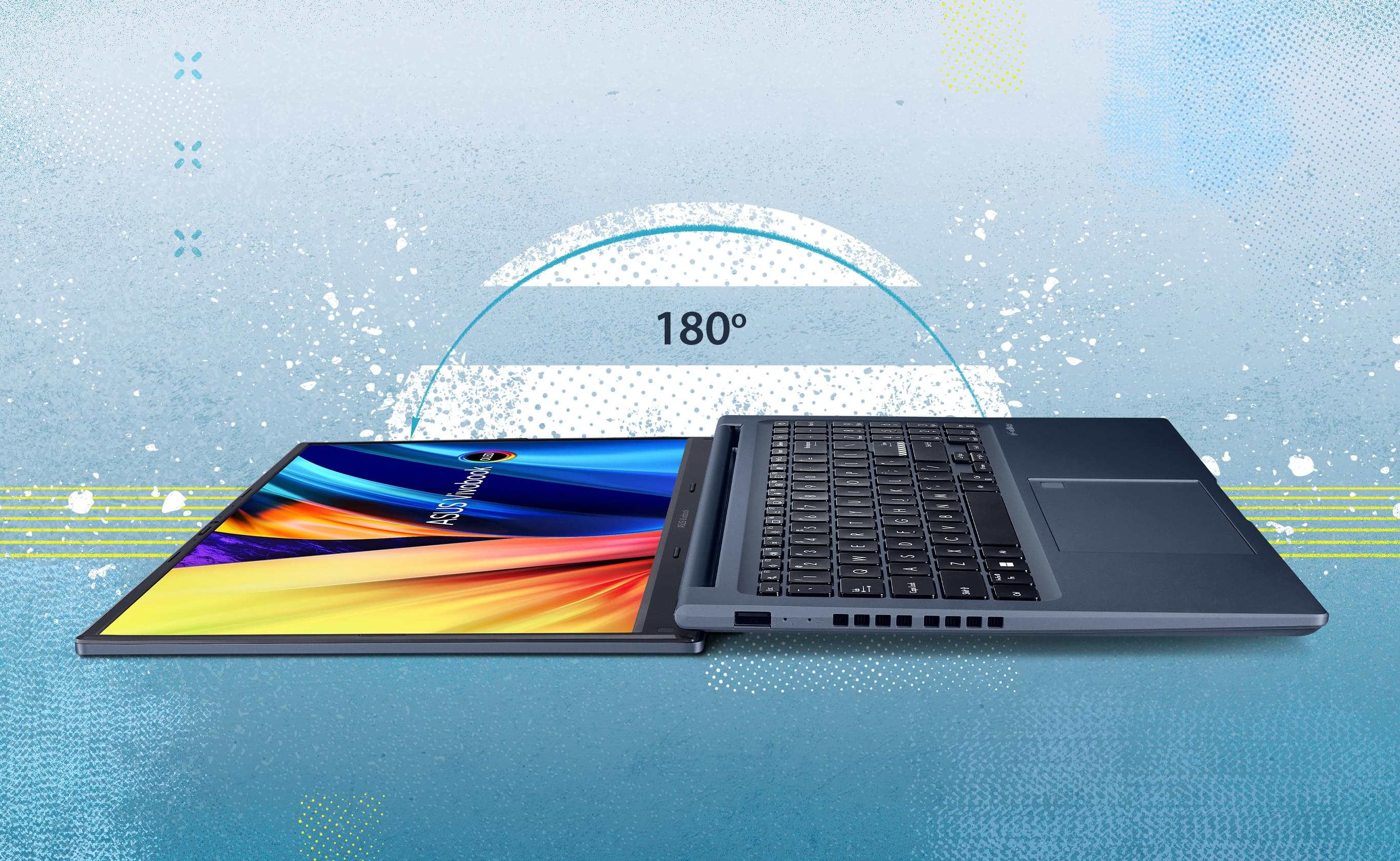 Brilliantly nuanced ErgoSense keyboard
It's our mission at ASUS to elevate human interaction with technology to a higher and more intuitive level than ever before. The latest ASUS ErgoSense keyboard are engineered to enable an unrivaled input experience that's in harmony with how you move, feel and touch. Your comfort is our highest priority. That's why the ErgoSense keyboard has an incredibly satisfying feel, with the optimum bounce and travel calculated with fine-tuned precision. Experience the ErgoSense keyboard, and you'll soon find yourself cruising effortlessly through your work.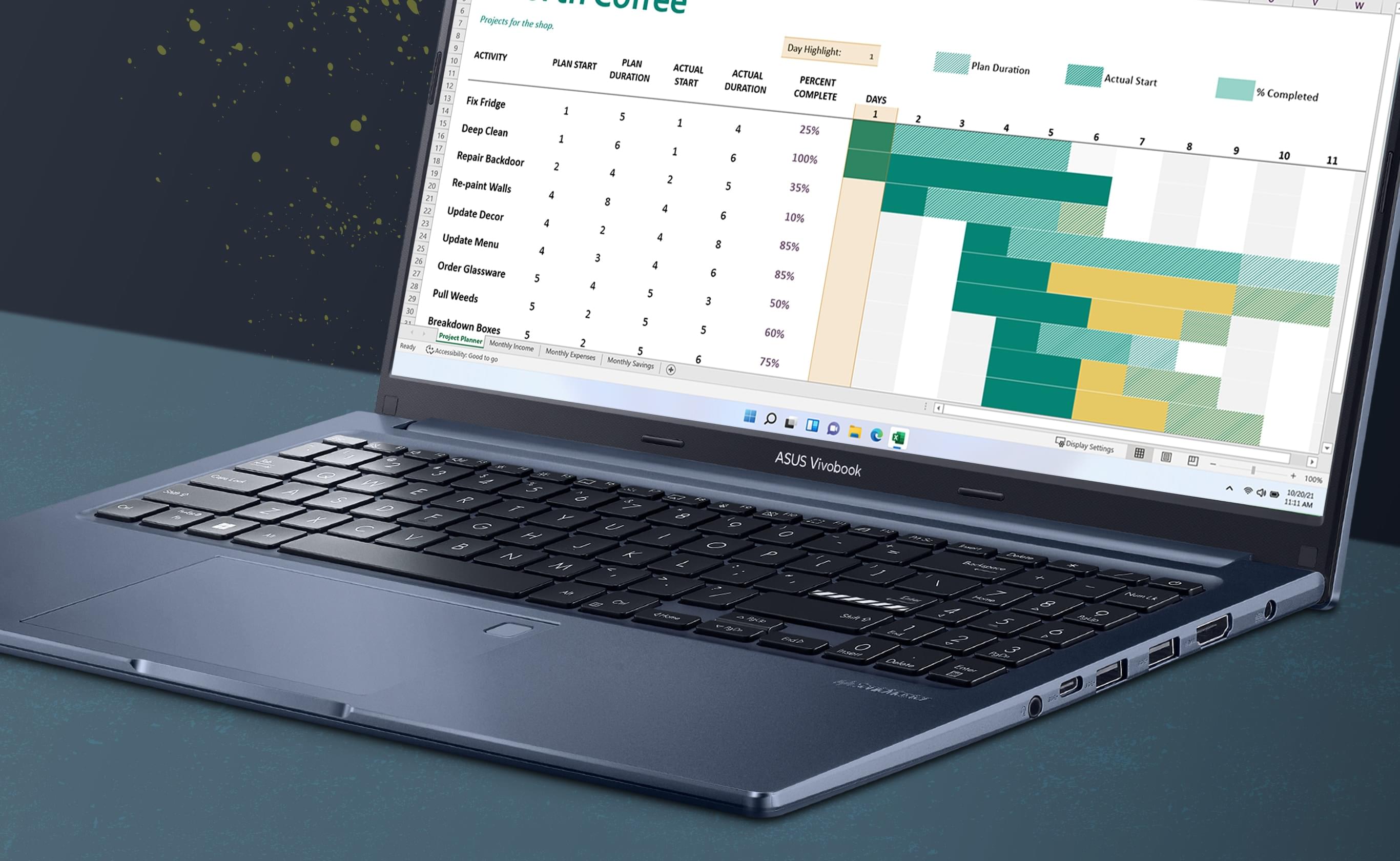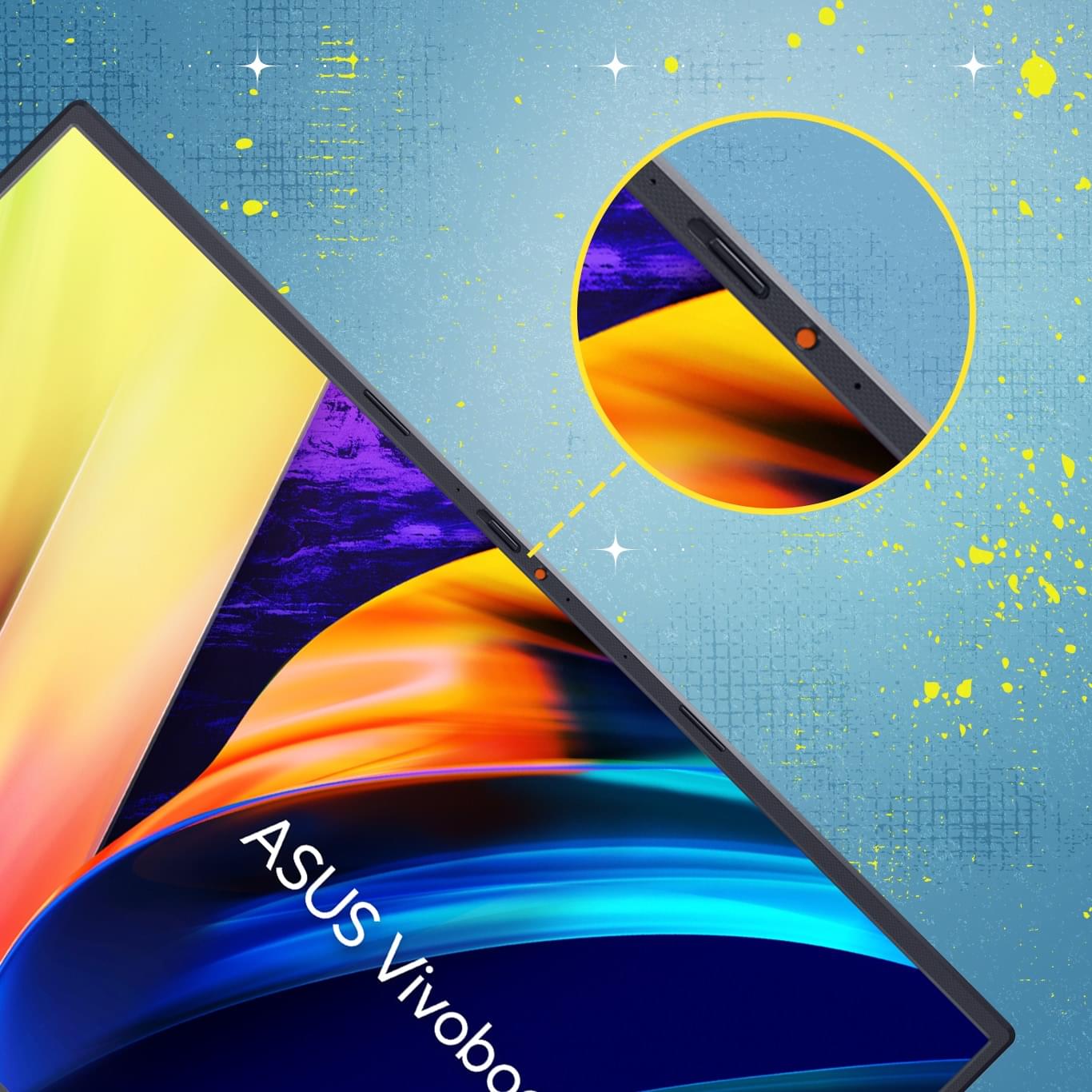 Physical webcam privacy shield
Vivobook 15X OLED takes your privacy and security seriously. There's an integrated privacy shield that slides over the webcam for instant privacy, shielding you against prying eyes and disturbances.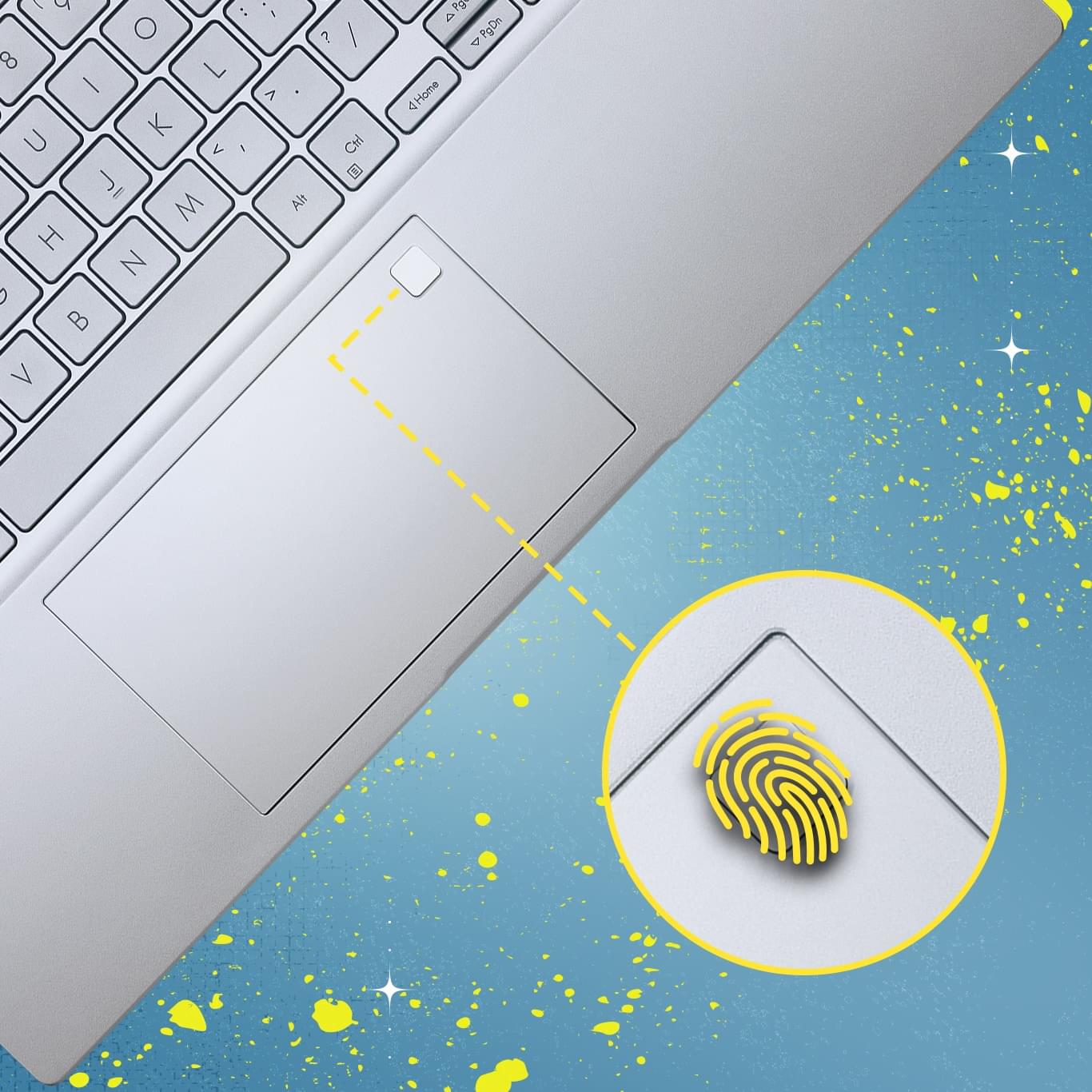 Unlock in one touch
Accessing your device has never been easier or more secure! With the built-in fingerprint sensor
8
in the touchpad and Windows Hello, there's no need to type in your password every time — all you need is a single touch!