Baseus 100W Output for Laptops and Phones
Each Type-C port supports 100W power output, more powerful than ever before.

A size 50% thinner than traditional 20000 mAh bulky power bank.

Dual USB-C and USB-A ports to fast charge 4 devices at once.

The LED status display shows the real-time percentage of remaining battery, voltage, current, and charging time.
Slimmer 100W USB-C Portable Charger
0-to-36% in 30 Minutes!
Charge anything: laptops, tablets, smartphones, or any USB-chargeable devices(check your charging device model with our team before buy it).
The lastest LED Display

More Thinner and Light, Convenient For Carring

100W Power Delivery, Full Charge MacBook Pro 16″ In Only 1.5 Hours

PD Input 65W, Fast Recharge by Using The Including USB C Cable, Just Need 1.5 Hours

Passed UL Safety Certification, Multi-Protection, Energy Efficient, Less Heat

USB-C Output: 5V/3A;9V/3A;12V/3A;15V/3A;20V/5A,100W

USB-A Output: 4.5V/5A;5V/4.5A;5V/3A;9V/3A;12V/2.5A, 30W
100W for Laptop
When using single USB-C port ,it can reach 100W, fully charge a Mac 14" in 1.5 hours.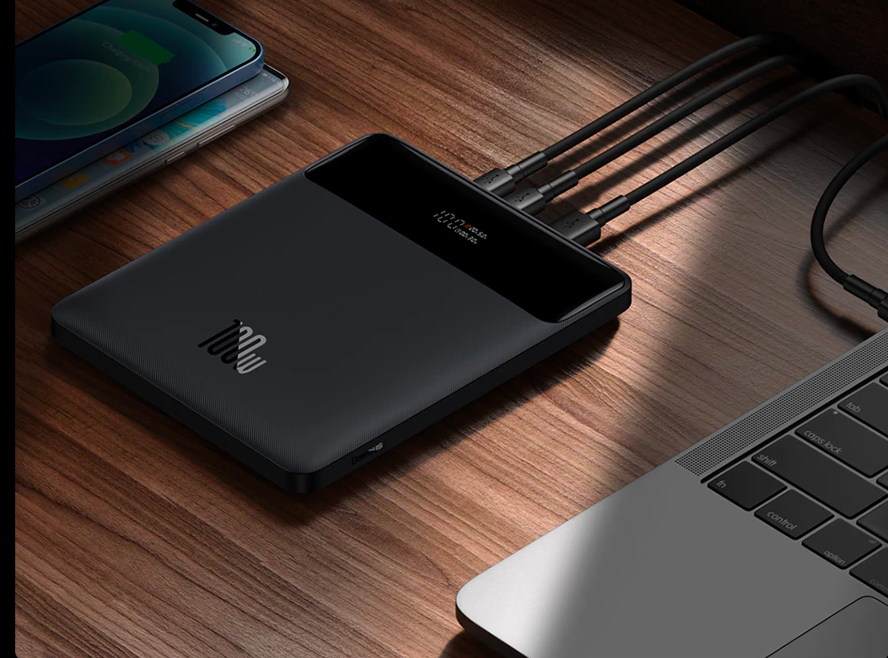 Total 95W for Laptop and Phone
65W USB-C and 30W USB-A to simultaneously fast charge your laptop and smartphone at full speed.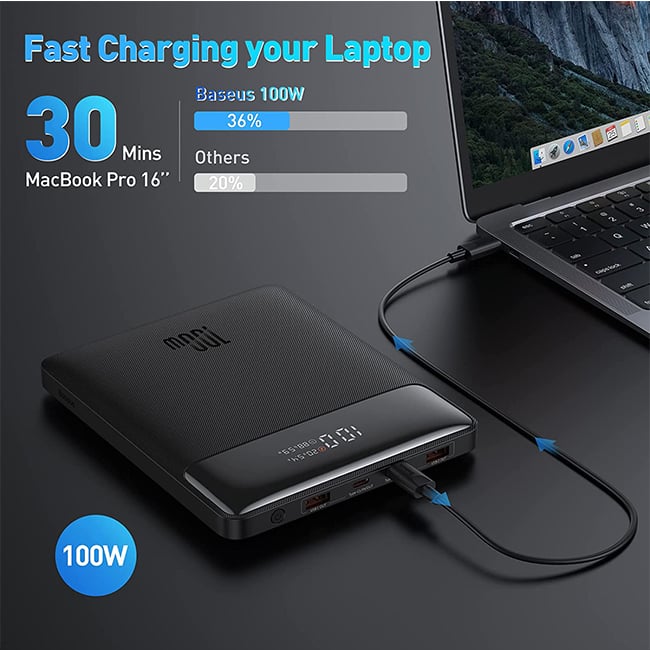 type-C and 2 USB outlets charge multiple electronics simultaneously
Hook up your laptop and phone or other device combinations.
Work and refill at once with strong 100W output
Increase your battery level even while you work with your devices.
Fully charged after just 90 minutes
Spend less time recharging your power bank and more time using it on the go
8mm/7.08in and 490g/1.08lb design is thinner than a laptop
Easy-to-carry size won't add too much extra weight to your daily must haves
Get at-a-glance information on the easy-to-read digital display
Track your remaining battery level, charging speed and output.